At Saxon Weald, we believe everyone has the right to feel safe in their home. To demonstrate our commitment, we've signed up to the Domestic Abuse Housing Alliance (DAHA) accreditation scheme.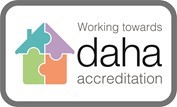 DAHA is a partnership between three agencies: housing associations Peabody and Gentoo, and London-based charity Standing Together Against Domestic Violence. Their mission is to improve the housing sector's response to domestic abuse through the introduction and adoption of an established set of standards.

We are dedicated to supporting anyone who is experiencing domestic abuse and will be using information from the scheme to equip our staff with the skills and knowledge they need to effectively handle instances of domestic abuse that arise. Staff will also be educated on how to support victims of domestic abuse, working in partnership with agencies to help keep individuals and families safe in their homes.
As an inclusive company, we are dedicated to ensuring that the information we provide our customers is accessible and suitable for a wide range of needs and requirements. This includes supporting customers who have impaired vision or hearing, or speak a foreign language. If you or someone you know requires information about our services in an accessible format, please get in touch and we will always do our best to accommodate this; including providing an interpretation service if needed.
To find out more about our approach, please see our domestic abuse policy below.